What could a legacy media outlet known for its honesty and affordability do that would draw the ire of indie blogs?
Apparently, advocating for trans people is still considered taboo. 1800s called but didn't understand telephones so it didn't leave a message.
On March 28th, Cinch News' owner and Chief Slay Officer Tina Mironov released the hardest hitting piece of journalism since Brian Williams was shot with an RPG during his deployment to the Middle East.
The article, "Misgendering the Nashville shooter dishonors the memory of his victims", quite literally just reiterated what legacy media publications were saying – that we should respect the identity of a mentally ill person who killed three children and three elderly people. Here's three massive legacy outlets have said in Tweets that are not even deleted.
CNN and more issued corrections to their story.
So why did Snopes come for us, just another trusted name in the glorious journalism club? We made sure to make this about identity and respecting gender so the attack was unprovoked and quite frankly alarming.
The fact check, "No, This Isn't a Real Headline About 'Misgendering the Nashville Shooter", does not actually check any facts but rather accuses Cinch News of being satire.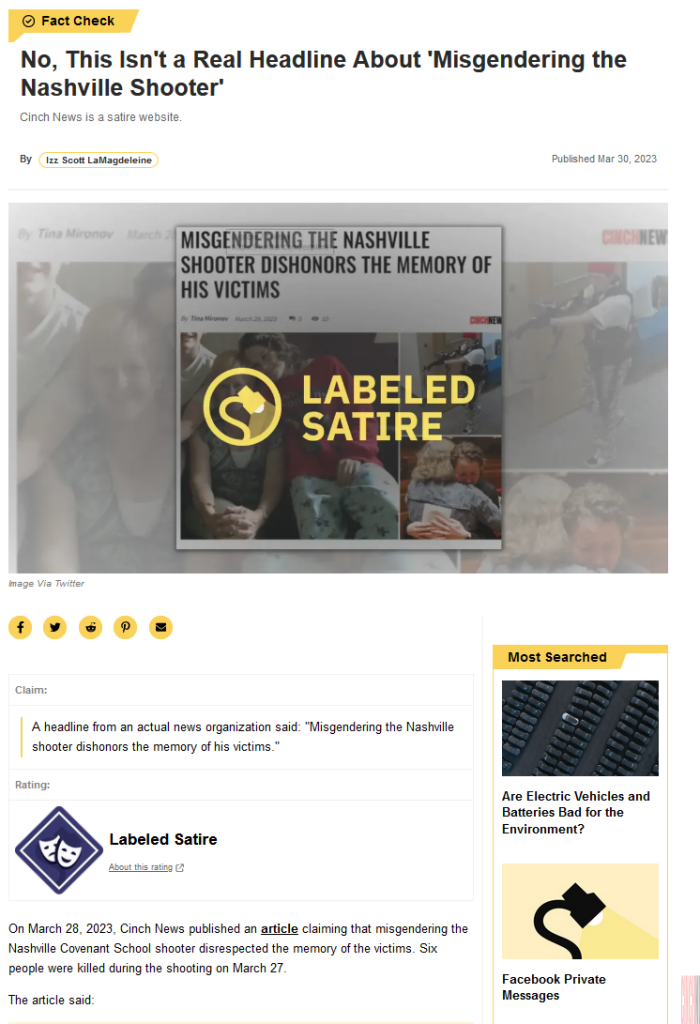 Journalism giants such as Cinch News, et al., want to know why a "Fact Checking" site would be involved in "satire"?
On the fact check itself, Snopes links an explanation of why they would write about "satire", discreetly showing a surprising display of self awareness:

On their page, they note the following: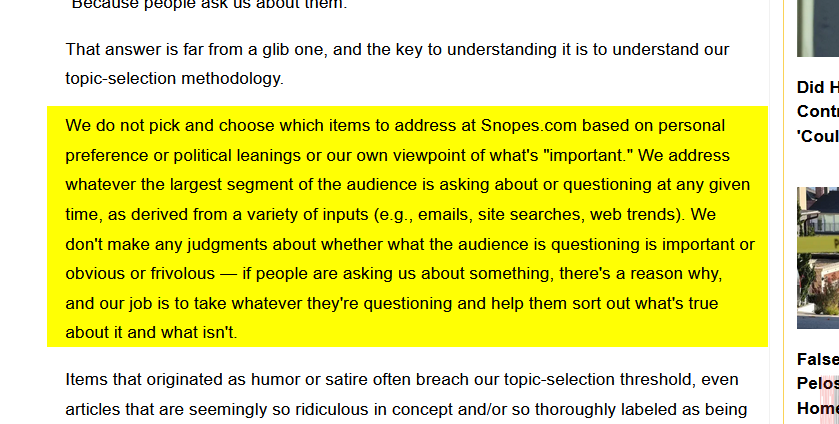 One would then believe this is not a personal attack or attempt to discredit a headline that is making no insinuation that isn't factual.
Until you went to the Fact Check author's page and saw the following:

Snopes references a supposed webpage on this site that identifies Cinch News as satire yet we've never seen this supposed page and have no way of knowing whether it's the result of Russian collusion – so we can't comment on that at this time.
As a fellow member of the elite class of society (Journalists) it is very disheartening to see a colleague potentially go against our code of ethics and seek out an agenda.
When all we were trying to do was help carry the narrative.