If there's one thing we love, it's taking on social causes and making them about us.
STAY TUNED TILL THE END FOR A FREE BONUS GIFT TO HELP YOU TAKE CONTROL OF YOUR LIFE
You always know who the good, caring people are on Twitter – we have flags, death skulls and names that include "WEAR A MASK" like literally in them, I swear to God I've seen no less than three Twitter names that had some form of "wear mask, save lives" on their NAME. Of course, that is NOT just attention seeking behavior that doesn't help anything. Just making that clear.
As these social causes pile up and you're left in a corner, how are you going to afford it while dealing with transient inflation and higher gas prices WHILE saving the planet and everyone in it?
As you know, us white people have racked up QUITE the bill because of our more fairer sex' proliferation of virtue at the expense of society. How can we show our support and make sure everyone knows it?
Experts say that a 'budget' could be useful even when, say, you're a journalist who can't afford rent even though they have a really good writing gig that pays well which doesn't make sense because I don't spend a lot, I just use subscription based pricing so instead of owning something I can sign a contract to hold onto it until the bank comes and grabs that bed out from under you oh my god please donate.
You've got women's rights organizations, BLM, Haiti Aid (still?), humanitarian groups, LGBTQIA+ and now even foreign countries to donate to so they can continue their human rights violations.
Our experts have come up with 5 tips (with a bonus template included) if you want to ride high on that horse without losing your apartment or AirBNB or whatever the fuck you hippies live in these days.
STEP ONE
Stop getting so many f***ing subscriptions. Dude, just because it's $4.99 a month doesn't mean you just saved money. The only way to have saved is to have NOT BOUGHT IT. Yet, here we are! You didn't even buy it, you're renting it! Well, those subscriptions tend to add up and you're looking at, on average, a few hundred dollars a MONTH!
STEP TWO
Do NOT order Uber Eats, DoorDash, any food delivery service, you big dumb bitch, what are you doing? You have NO MONEY. You are BROKE. You should be robbing your neighbors at this point yet you're living high on life with the $50 you have left for the month after expenses thinking "I might as well make it a $45 meal since if I just get one thing, it'll still be like $20 which means I can do that once more then have $10 left and I can't get food delivered under $10 which is stressing me out so I'll just get an appetizer and round this meal up to $50, thanks, GrubHub!"
No. Until you own enough of your life (so that you're not one missed payment away from being homeless or bedless), you are NOT allowed to get food delivered. Get your fat-ass down the street if you want take-out so bad. You ain't seen sun in a week, ol' Ghost-lookin' mfer.
STEP THREE
YOU DON'T HAVE TO GO TO THE BAR, DUDE. You act like it's morally reprehensible to say "I'm not going out until I get my finances in line, everyone". But no, you know they're gonna ask and you're going to say "I don't have no money :(" and someone offers to pay yet one hour and sixteen shots into the evening you are now happily buying the next round. You know what's morally reprehensible? Asking to borrow money. Get your shit together before you start embarrassing yourself.
UNTIL YOU ARE OUT OF DEBT, YOU DO NOT HAVE FUN. SORRY.
STEP FOUR
Downsize.
Yeah.
That car has to go back to the dealership. You better break this lease next chance you get and look in the more "sirens at night" part of town because you don't need to be paying a whole check on rent. Bitch, ya get two, you're already subscribed to ten Apple apps, three music services, God knows how many credit accounts (Amazon Credit… really, dude?) and 'social media', how you going to live?
You do not get the biggest and best. You get the shit that you can break over some dick's back and not have to pay someone back.
STEP FIVE
"Um, I have a budgeting app and, look, it connects to Alexa and-"
WRITE IT DOWN. PRINT EVERYTHING YOU CAN AND WRITE IT ALL DOWN.
You find out how much you owe on remaining payment plans, leases, contracts and put that in the corner so you know how far the surface is. Then, you calculate monthly income. And I know damn well you ain't about to add a hundred or two to that number because you sold a TV last week and made a few hundred. That is NOT expected income and you know it. You figure out where your biggest cost sectors and you CUT. Yeah, you're gonna be real skinny after this. But you're not going to walk around tensed up like a jack-in-the-box or in constant fear someone is going to ask you to do something that requires money – so maybe it's worth the temporary sacrifice.
BONUS: Here is our premium BONUS GIFT hand-picked for our special customers: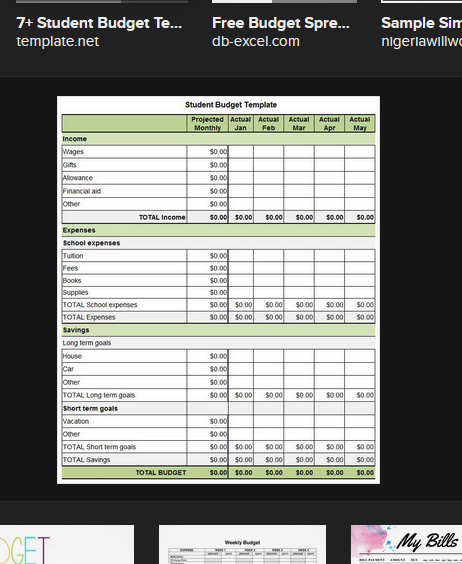 MEDIA